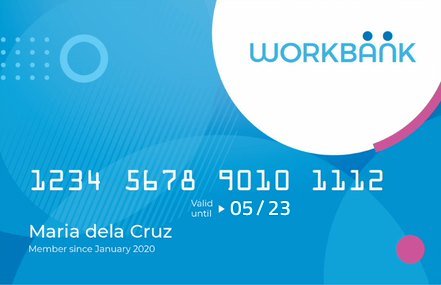 Your Workbank E-Card is a virtual card that you receive once you complete your Job Seeker profile. Use it to avail of various premium perks that will not only make your job search more enjoyable, but create an even better career-building experience.
How to Get and Use your E-Card
Sign up and verify your account.
Complete your profile up to 90% profile progress and upload your CV
Use your E-Card which you can find at the My E-Card Page!
-For Food Partners: Show the actual digital card on the website upon ordering
-For Job-Hiring Partners: Follow specific instructions for each at the My E-Card Page
E-Card Partners
Qualification
All Workbank users of legal age (18 years old and above) who reach at least 90% profile progress and have uploaded a copy of their CV on the platform will instantly get an E-Card on their account, which they can use to enjoy partner perks.
Validity and Perks
Promo period is from May 1, 2022 - May 1, 2023. Perks are valid 60 days from end of promo period.
Once expired, candidates must update their details on the platform for any relevant changes.
The use of E-card allows candidates to take advantage of exclusive perks from Workbank partners. This includes job application benefits and free trainings.
E-card Usage Mechanics
Sign up on www.workbank.com, or login to your existing Workbank account.
Complete your profile with correct information until you reach at least 90% Profile Progress and then upload a copy of your CV to get the Workbank E-Card, which you can view from your Candidate Dashboard.
The E-Card will contain your name, unique Workbank ID number, and expiry date. An email confirmation will also be sent to your registered email.
Exclusive member perks are seen on the same page where the E-Card is found. There are unique mechanics and terms of use for every perk from different partners, which you can learn more about by clicking them.
Follow the terms and conditions per partner to redeem the perks. You may be asked to present a digital copy of your Workbank E-Card, and a valid ID. Valid IDs include the following, but are not limited to:

| | | |
| --- | --- | --- |
| Passport | Driver's License | SSS UMID |
| PhilHealth ID | TIN ID | Postal ID |
| Voter's ID | PRC ID | OFW ID |
Terms and Conditions
A Workbank user is a member who has a verified Candidate (Job Seeker) account in www.workbank.com.
Workbank user should be at least 18 years of age to receive a Workbank E-Card.
Workbank user must sign up at workbank.com, verify their account via registered mobile number or email, and reach at least 90% profile progress and upload a copy of their CV to receive the E-Card.
Workbank user who create their account via Facebook/ LinkedIn, although automatically verified, must also reach at least 90% profile progress and upload a copy of their CV to receive the E-Card.
Only unique registered Workbank users will be considered for the E-Card and the exclusive perks that can be availed through it. Duplicate creation of Workbank profiles will be subject for disqualification.
A confirmation email will be sent to the Workbank user's registered email address once profile progress is at 90% or higher and a copy of their CV has been uploaded.
Workbank users must show both the E-Card and a valid ID to avail of exclusive member perks if required by partner merchant. Failure to do so will mean they cannot take advantage of any benefit tied to the E-Card.
Use of the E-Card is exclusive to the designated Workbank user only and perks associated with it cannot be redeemed by anyone other than the person whose name appears on the card.
Promo period is from May 1, 2022 - May 1, 2023. Workbank user can use the E-card until 60 days from end of promo period.
Each participating partner will have different mechanics and terms of use for their unique offerings for Workbank users.
The exclusive perks redeemed through the Workbank E-Card are not convertible to cash.
If Workbank suspects or identifies misuse or abuse of the E-Card, it may result in blacklisting and/ or deactivation of the Workbank user's profile.
Customer Support
For any questions or clarifications, please email Workbank at customersupport@workbank.com.
Per DTI Fair Trade Permit No. FTEB-141918 Series of 2022
Promo period from May 1, 2022 - May 1, 2023